NERF | Roadshows
It's NERF Or Nothin'
The Challenge
Getting NERFs latest product into kid's hands
Reaching parents with children in positive mind-set environments to give them a hands-on brand experience
NERF wanted to showcase their recent products in a nationwide tour where they would reach high volumes of their family target audience.
The Idea
The NERF Test Centre Tour
Offering a unique NERF blasting experience
We refreshed the experience with a brand new tour name, The NERF Test Centre, offering a unique blasting experience of both NEW and retro blasters and creating a 360-degree experience in & around the branded shipping container.
Customers entered the experience and chose which area they would like to trial first, head to the Regulator area to try the power of the latest blaster in the Modulus range & receiving a free branded wristband or entering the Nitro area to blast into overdrive with the new Motofury blaster.
Here consumers could shoot their foam cars up and over ramps and obstacles and receive a free personalised driving license. Lastly visit inside the shipping container to explore the history and evolution of NERF via a visual 3D timeline showcasing vintage blasters and TV adverts.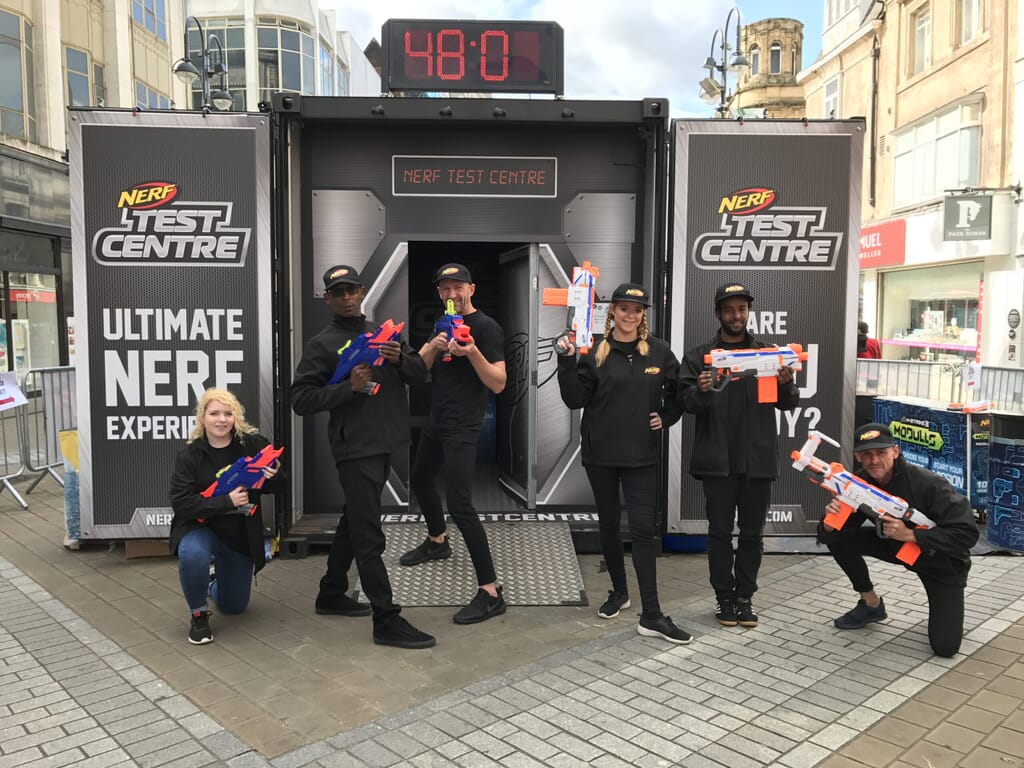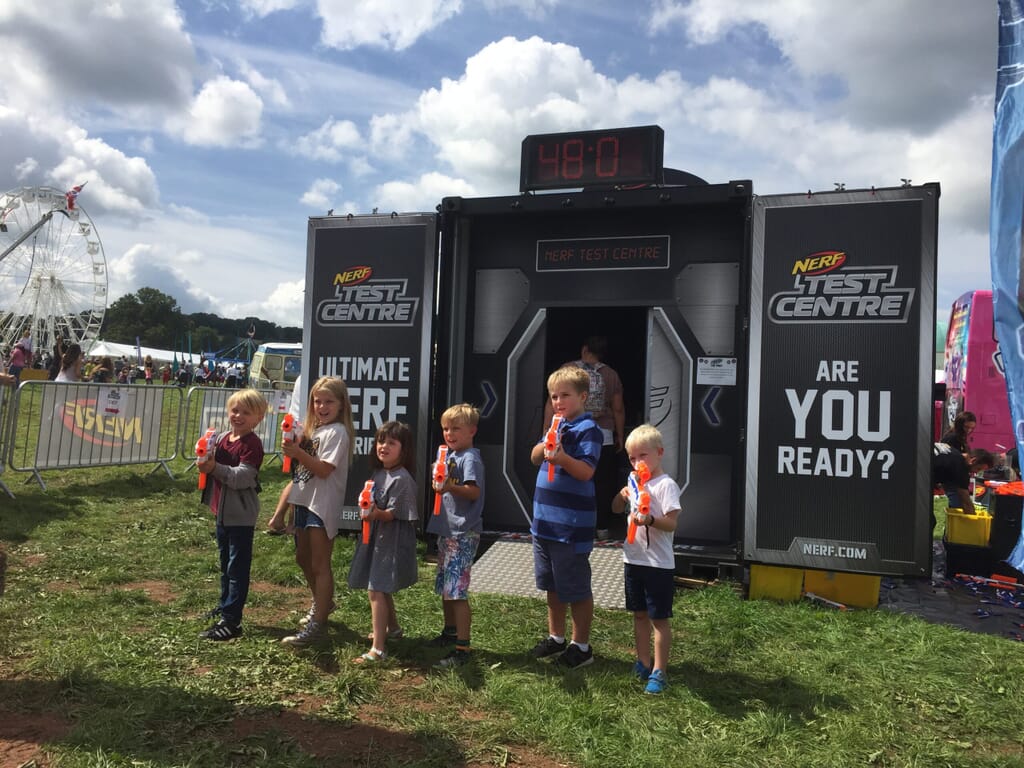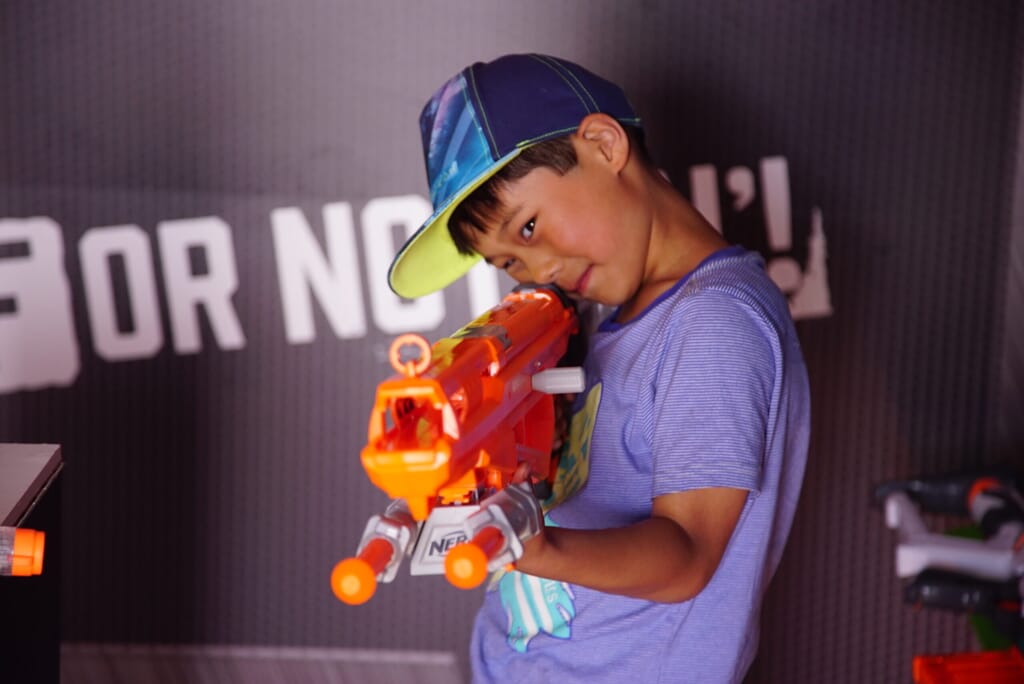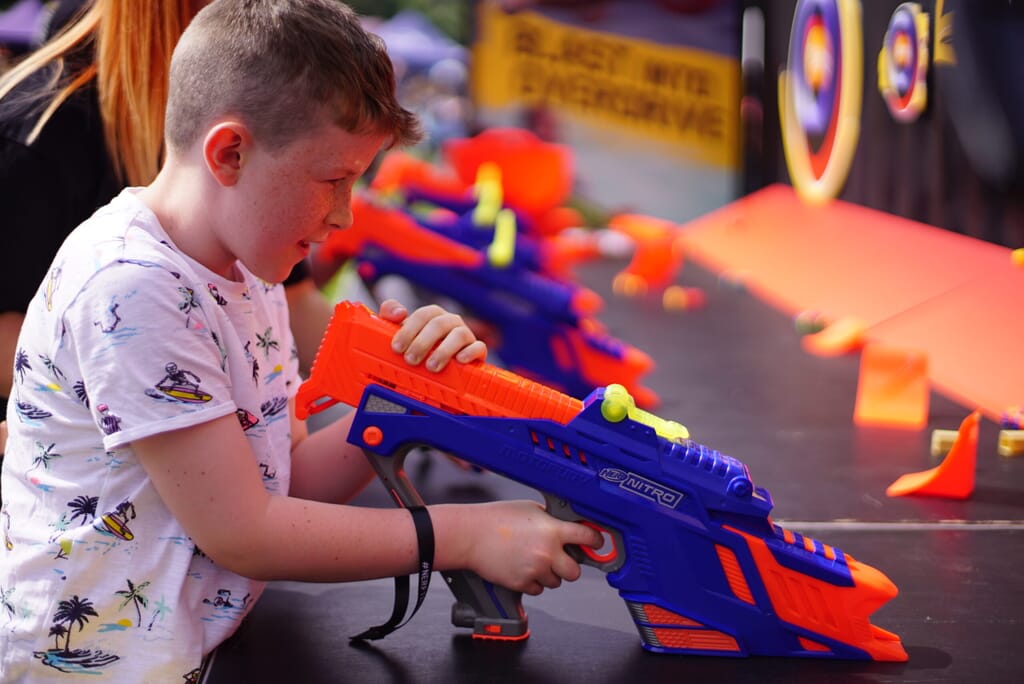 1.7 Million
Opportunities to see
testimonials

"i2i have been fantastic to work with and have confidently delivered this multi-disciplined promotion."

Aquafresh, Brand Manager

testimonials

"i2i have been a fantastic agency to work with and have a created phenomenal experience for iso-active. I am sure the consumers reaction matched ours."

Iso Active, Brand Manager

testimonials

"i2i did a fantastic job bringing Paula to life. The activity successfully reached a high proportion of mums and kids in a fun and engaging format. The campaign was an integral part of achieving 13.4% market share of the kids treats market within 9 months."

Paula, Brand Manager

testimonials

"From the outset, i2i understood what the brand needed to achieve, their professionalism and passion ensured that consumers were delivered the best possible MAOAM experience."

MAOAM, Brand Manager

testimonials

"i2i worked brilliantly and seamlessly with us to develop a campaign that simply delivered outstanding results. Truly remarkable given that we were two years behind other Olympics sponsors in our planning. Success despite the perfect storm – truly incredible!"

General Mills, Olympic Project Director

testimonials

The Coeur de Cognac stand took everyone's breath away. I have had emails from clients and visitors commenting on this. Coeur de Cognac was most certainly the talk of the event.

Foodies Festival, Project Manager