News
Creating Local Brand Experiences that Engage and Support Individuals & Communities
The summer of 2021 will be different to many we have experienced in the past, but it presents an exciting opportunity for brands to create stand-out local brand experiences by harnessing new consumers beliefs and behaviours in a post-Covid world.
Due to ongoing travel restrictions and consumers' concern about international travel. We anticipate an extremely high percentage of the British public will book Staycation breaks rather than travelling abroad, making it the perfect time to create local brand experiences.
71% of Brits state they are keen to schedule a UK break in Summer 2021 as there is more certainty these will be able to take place
UK travel industry has already seen a 50% increase in people booking UK breaks with many large group bookings as people want to reconnect with each other as they have missed out on large family celebrations in the last year.
This presents several exciting experiential marketing opportunities for brands to engage with consumers in very busy and lively British holiday destinations including seaside towns, family shows and events as well as local tourist attractions which are all likely to deliver extremely high volumes of holiday makers. Mobile sampling teams can roam in these busy locations offering high volume, cost effective, delivery of samples This offers the chance to engage with consumers when they are in relaxed, joyful and positive mindsets and willing and open to try a new product. Mobile teams are also very agile with minimal set up so we can react easily and quickly to any local changes.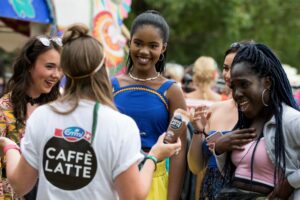 In 2021 we anticipate many live events will be operating as smaller entities especially due to the rise in popularity of local events in recent years as people feel more comfortable in smaller settings. Brands will be able to connect and resonate better with their audience in more intimate and immersive environments whilst still delivering significant targeted reach.
Venues have adapted to ensure Covid-safe environments whilst still offering an engaging local brand experience including socially distanced concerts and American-style Drive in Cinemas and Shows. Attendees were given an allocated pod which had a food & drink delivery service. Only single individuals were able to leave their pod at one time to go to the toilet or visit a food stand & staggered arrival times were implemented to minimise risks.
Brands will also be able to resonate with consumers in other environments where they feel comfortable such as retail and grocery. As a product sampling and demonstration agency we have been successfully engaging with consumers in these environments including during 2020 in a Covid-safe way.
We anticipate with consumers planning more celebrations this will maintain the continued high demand at local grocers offering a fantastic opportunity to get samples into consumers close to point of purchase. This achieves tremendous sales uplifts instore, especially when supported by a promotional marketing campaign.
For more information on how i2i Marketing can help your brand please call 01285 655500 or email info@i2i-marketing.co.uk